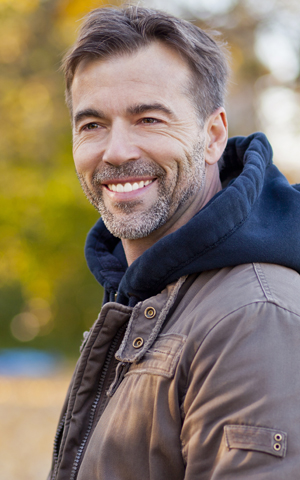 Most people cannot fully appreciate their healthy smiles until they're gone! Tooth loss is a common result of gum disease, physical trauma, or aging. The good news is that if you have lost your teeth, the perfect solution is waiting for you at our practice.
Patients love our custom-made dentures because they restore their abilities to eat and speak. Our dentures are also highly appealing and natural-looking. They give patients the confidence to smile and laugh again.
The Denture Treatment Process
Come in for a consultation with Dr. Williamson to discuss your tooth replacement options. If you decide that dentures are right for you, she will take impressions of the upper and lower arches of your mouth. She will send these impressions to a dental laboratory, where they will create your personalized dentures based on the color and shape of your gums and teeth.
At your next appointment, Dr. Williamson will check the color, shape, and fit of your dentures. If you and the doctor are satisfied, you will leave our office with a gorgeous new smile.
Denture patients should never hesitate to give us a call with questions or concerns. We are always happy to bring our patients in for denture adjustments when necessary.
Complete Dentures
Traditional complete dentures are an economical solution for patients who are missing most or all of their teeth. These dentures have a pink plastic base and a full set of replacement teeth. The base forms a seal with the gums to hold the dentures in place.
Partial Dentures
Partial dentures are replacement teeth for patients who have lost several teeth, but still have healthy teeth remaining in the mouth. Partial dentures consist of a denture base and denture teeth, but unlike complete dentures, they are anchored by the natural teeth. Partial dentures include a clasp or retentive device that are attached to the existing teeth.
Permanent Dentures
Dr. Williamson is proud to provide permanent dentures to her patients who want a long-lasting and comfortable denture solution. Permanent dentures are held in place by dental implants, which are titanium replacement roots that are installed beneath the gums. Permanent dentures will never slip, slide, or fall out of place while you wear them.
Want to enjoy the benefits of a happy and healthy smile again? Please give us a call today to schedule your denture consultation.