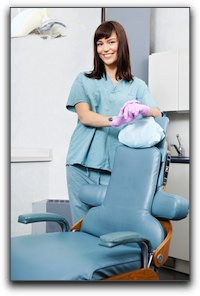 On this blog post from Karen E. Williamson DDS PA in Rockwall TX, we want to talk about an often-overlooked feature in practices: the modern dental chair. Did you know that dental chairs don't come from your local furniture store?
Dental chairs were designed especially for the comfort of patient and dental provider alike. At our practice, we take advantage of advanced ergonomics and top-of-the-line comfort technology to bring you an experience like no other. You'll be amazed with the recent innovations in seat technology.
Our chairs offer fully adjustable seats and are lined with comfortable, sturdy materials that mold to your weight and shape. It really feels like you're floating! The cushioned seats allow us to treat our patients easily, while also ensuring your comfort.
The last place you want to feel discomfort is at a dental visit. It can already be stressful to deal with a dental problem; a bumpy, uncomfortable seat is like adding fuel to that fire.
In addition to a comfortable seat, Karen E. Williamson DDS PA in Rockwall TX boasts a professional dental team that is trained in direct patient communication and is ready to answer any questions you might have. Whether you need general dentistry for dental maintenance, cosmetic dentistry for aesthetic problems, or dental implants for tooth replacement, take a seat! Your dental assistant will see you shortly. Patients from Royse City, Backland, Heath, and Fate visit us every day. Contact us today!
Contact Karen E Williamson D.D.S., P.A:
Location (Tap to open in Google Maps):
ArticleID 5524