Fix Chipped Teeth Fast in Rockwall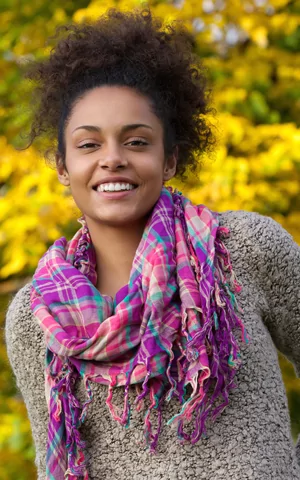 Dr. Karen Williamson is proud to be the only certified Bioclear provider in the area! She loves the benefits that Bioclear bonding offers to dentists and patients alike.
What Is Bioclear?
The Bioclear dental bonding method allows Dr. Williamson to conservatively fill in chips, cracks, or cavities. This type of bonding is used to improve the appearance of the teeth and gums. Bioclear is uniquely designed to fill in "black triangles," which are small areas in between teeth where gum tissue is absent or has receded.
Many patients notice black triangle teeth in their smile, especially as they age. Bioclear bonding can also be used on larger gaps between the teeth.
Bioclear can rebuild the appearance and structure of your smile within minutes. This technique is highly precise and will provide you with the long-lasting results you are looking for.
How Does Bioclear Dental Bonding Work?
Bioclear bonding involves wrapping individual teeth in a composite material using a matrix to ensure the optimal shape. This approach makes Bioclear highly accurate and the results indistinguishable from natural teeth.
Susan T.
"I had my first visit today and I see why they get such rave reviews. High-tech equipment with a knowledgeable, efficient, super personable staff. My only regret is that I waited so long to switch dentists."
---
Karen E. Williamson, DDS, PA
2021-10-22T14:23:36-05:00
"I had my first visit today and I see why they get such rave reviews. High-tech equipment with a knowledgeable, efficient, super personable staff. My only regret is that I waited so long to switch dentists."
https://www.karenwilliamsondds.com/blog/testimonials/susan-t/
1
Karen E. Williamson, DDS, PA
The Benefits of Bioclear
Bioclear takes traditional bonding to the next level of precision and beauty. Bioclear bonding is a better choice than traditional bonding and even dental crowns and veneers in many cases. When you choose Bioclear, you will enjoy the following benefits:
Effective | Bioclear does a fantastic job of repairing damaged teeth—chips, cracks, stains, and more can all be treated. It can even fix gaps between your teeth, commonly referred to as black triangles or gingival embrasures.
Durability | Bioclear is more durable and long-lasting than traditional dental bonding. Traditional bonding takes a patchwork approach to tooth repair while Bioclear addresses the entire tooth.
Conservative | Bioclear is less invasive than veneers in that it does not require altering the tooth's natural structure via removal of tooth enamel.
Easily Repairable | If a porcelain veneer chips it cannot be repaired and must be completely replaced, which can prove costly. Should you ever need to repair your bonding, Bioclear provides a fast and affordable fix.
Affordability | Bioclear is impressively affordable and allows patients with different budgets to achieve more beautiful smiles. It tends to be far less expensive than porcelain veneers or crowns.
Bioclear Bonding vs. Dental Veneers
When placing a traditional porcelain veneer, a dentist must first "prepare" the tooth by removing enamel from the front and sides. This helps to make room for the veneer so that it will fit securely onto the tooth. Unfortunately, once this enamel is lost there is no getting it back. Bioclear bonding bypasses this step—improving your smile without any changes to your enamel. Maintaining healthy tooth structure gives you greater flexibility in the future should you want to explore other cosmetic or restorative dentistry procedures.
Bioclear bonding compares favorably with dental veneers in a few other ways as well. One of the biggest advantages of Bioclear bonding is that it is convenient. Bioclear bonding can be completed in one office visit whereas veneers take at least two since the dentist must take a mold of your teeth and then create the veneers in a lab.
Another positive about Bioclear bonding is its price. Bioclear bonding tends to be around 25–50% cheaper than dental veneers. Considering that the two share a similar expected lifespan—about 10 years—it's easy to see that Bioclear provides excellent bang for your buck.
Chipped or Cracked Teeth? Schedule a Teeth Bonding Consultation in Rockwall!
Dr. Williamson enjoys giving her patients access to the latest dental advancements so that they can experience more affordable and effective dental work. At our office in Rockwall TX, near Royse City, we hope that we can help you take advantage of Bioclear bonding here at our practice. Questions? Looking to schedule? Call 469-402-0024 or contact us today via text, or email.