Fix Chipped Teeth Fast in Rockwall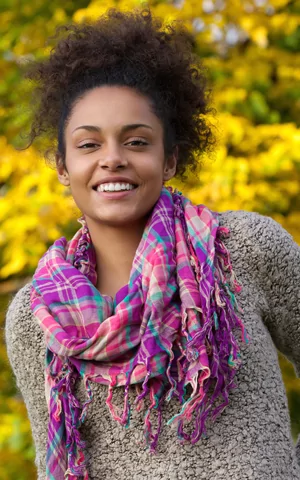 Dr. Karen Williamson is proud to be the only certified Bioclear provider in the area. She loves the benefits that Bioclear bonding offers to dentists and patients alike.
What is Bioclear?
The Bioclear bonding method allows Dr. Williamson to conservatively fill in chips, cracks, or cavities. This type of bonding is used to improve the appearance of the teeth and gums. Bioclear is uniquely designed to fill in "black triangles," which are small areas in between teeth where gum tissue is absent or has receded.
Many patients notice black triangle teeth in their smile, especially as they age. Bioclear bonding can also be used on larger gaps between the teeth.
Bioclear can rebuild the appearance and structure of your smile within minutes. This technique is highly precise and will provide you with the long-lasting results you are looking for.
How Does Bioclear Bonding Work?
Bioclear bonding involves wrapping individual teeth in a composite material using a matrix to ensure the optimal shape. This approach makes Bioclear highly accurate and the results indistinguishable from natural teeth.
The Benefits of Bioclear
Bioclear takes traditional bonding to the next level of precision and beauty. Bioclear bonding is a better choice than porcelain veneers or traditional bonding in many cases. When you choose Bioclear, you will enjoy the following benefits:
No need to alter the natural tooth structure (a more conservative approach)
Should you ever need to repair your bonding, Bioclear provides a fast and affordable fix
Bioclear is impressively affordable and allows patients with different budgets to achieve more beautiful smiles
Chipped or Cracked Teeth? Schedule a Teeth Bonding Consultation in Rockwall!
Dr. Williamson enjoys giving her patients access to the latest dental advancements so that they can experience more affordable and effective dental work. We hope that we can help you take advantage of Bioclear bonding here at our practice. Call us with questions or to schedule your appointment today.