Advanced Laser Technology in Rockwall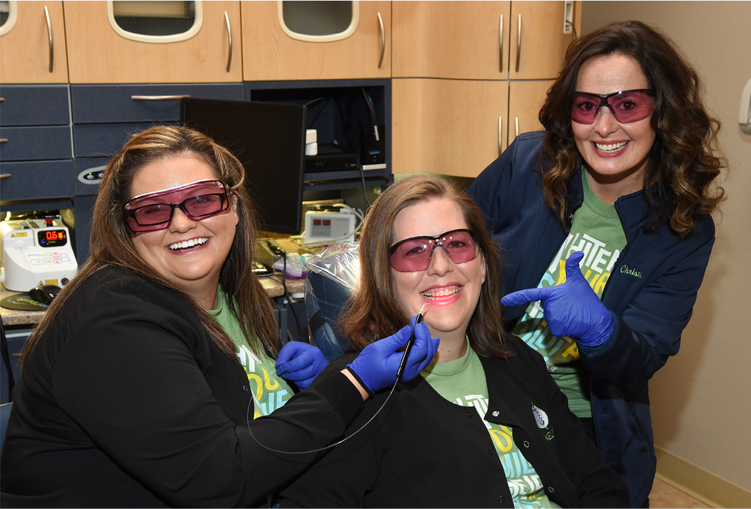 We are fortunate enough to live in the age of laser dentistry! Laser dentistry makes various dental procedures more precise and less painful.
This innovative dental technique utilizes intense beams of light that can cut through gum tissue with laser-precision. The soft tissue dental laser can be used for a wide variety of routine periodontal treatments.
Laser dentistry has given thousands of patients the motivation and sense of peace that they needed to receive general or cosmetic dental procedures. If you want a better smile, but are fearful of pain, bleeding, or long recovery times, laser dentistry may be the solution for you.
The FDA approved laser dentistry as a safe and effective treatment in 1990. Some of the benefits of laser dentistry include:
Conservative Treatment | The dental laser damages far less healthy tissue than traditional tools do.
Increased Comfort | Skip the scalpels and sutures. The high-intensity beams of light are less painful than traditional methods!
Faster Healing | The tissue will regenerate more quickly, so your recovery time is shorter than ever.
Reduced Bleeding | Because there is no cutting and no sutures involved with laser dentistry, you can expect little to no bleeding during or after treatment.
Lower Risk | Bacterial infection is always a concern after dental procedures, but laser dentistry is so clean and accurate that it significantly reduces your risk of post-procedure infection.
Less Anesthesia | While local anesthesia and laughing gas are still options for laser dentistry procedures, many patients find these measures unnecessary with the laser. Laser dentistry is already quite comfortable naturally.
Soft Tissue Laser Dentistry Procedures
The dental laser can be used in the following ways, amongst others:
Reshaping or eliminating soft tissue.
Periodontal disease treatment.
Gum treatments.
Gum contouring.
Sleep Apnea and Snoring Treatment With the NightLase Fotona Laser
One of the soft-tissue laser procedures that we're especially thrilled to offer is the reduction of snoring and sleep apnea with our NightLase Fotona Laser.
With this procedure, we are able to use heat to tighten up the tissues near the back of your throat. The NightLase does this without any cutting or tissue damage, and the results require no nightly machinery or medication in order to be effective.
This process has been shown to help those who suffer from Obstructive Sleep Apnea to snore up to 50% less, and to breathe easier during sleep.
Experience Laser Dentistry in Rockwall—Call Today!
When you choose laser dentistry at our practice, you can expect a comfortable, successful procedure, and minimal healing time. To learn more about laser dentistry, please give us a call, text, or email to schedule an appointment at our dental office in Rockwall TX, near Royse City, today!