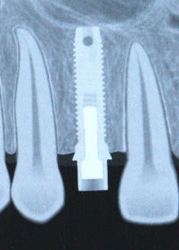 Dental implants are the prime tooth replacement available to individuals who are missing teeth, and they are available from Karen E. Williamson DDS PA in Rockwall.
A dental implant is a metal (usually titanium) post inserted into the bone to replace the missing root. The crown and supporting structure are securely and permanently attached to the post. Titanium is amazingly sturdy and extremely well tolerated by the human body. There are very few instances of rejection.
Dental implants offer a long-term solution to tooth loss. Are you a good candidate for tooth implant surgery?
Because the metal rod is anchored into the jaw bone, it is vital that you have enough healthy bone at the implant site. dentist Williamson can determine if you do. Age is rarely a factor. Dental implants have proved to be successful for individuals of all ages.
There are a few health concerns that may affect your eligibility for implants. These include diabetes, osteoporosis, radiation therapy for cancer, parathyroid disorders, bone disorders and leukemia. The presence of one or more of these does not necessarily mean an implant cannot work for you.
Discuss any health problems with us at Karen E. Wiliamson DDS PA in Rockwall during your implant consultation. We also provide general dentistry.
Contact Karen E Williamson D.D.S., P.A:
Location (Tap to open in Google Maps):
ArticleID 1504