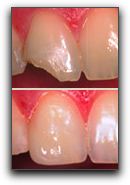 Dental crowns have been used in dentistry for over 2000 years. Those ancient crowns are a far cry from what we use today, at Karen E. Williamson DDS in Rockwall.
There is evidence that the Etruscans experimented with crowns on teeth using ivory and bone as early as 700 B.C. By 200 A.D., they began using gold crowns to construct artificial teeth. Ancient Egyptians fashioned tooth replacements out of seashells and then hammered them into their gums. (Oral sedation, anyone?)
Porcelain crowns were first used in the 1800s. With the refining of metal casting methods in the 1900s, crown dentistry advanced significantly.
Today, crowns are strong, comfortable and are made to match your surrounding teeth.
Dental crowns (also called caps) cover the entire visible portion of the tooth and are cemented in place. Crowns are used to strengthen teeth that have been worn down or weakened by decay or injury. Crowns are also used to restore the original shape of a tooth or solely to improve the appearance of a tooth.
The most common types of crowns are:
All-porcelain (ceramic)
Porcelain-fused-to-metal
Gold
If you suspect you need a crown, want to replace an old crown, or want to learn about other cosmetic dentistry procedures, call Karen E. Williamson DDS in Rockwall. We provide general and cosmetic dentistry. Make an appointment today.
Contact Karen E Williamson D.D.S., P.A:
Location (Tap to open in Google Maps):
ArticleID 667