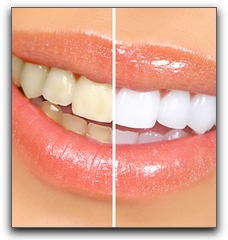 This article from Karen E. Williamson DDS PA in Rockwall is for people with stained teeth. Do you think yours are too stained for teeth whitening to have any effect? Think again.
There are two types of teeth stains: intrinsic and extrinsic stains. Extrinsic stains are on the surface of teeth, and are caused by dark colored foods and drinks, smoking, and normal aging.
Intrinsic stains form on the inside but can be seen from the outside. Tetracycline, excessive fluoride, trauma, and aging can cause intrinsic staining for unfortunate people. Though these stains are harder to remove, many patients with intrinsic staining can whiten their teeth with take-home whitening kits. The process often takes longer, but with persistence, intrinsic stains can be lightened.
We use professional-strength whitening agents that penetrate deep within tooth enamel to whiten even the toughest stains. Professional teeth whitening far surpasses anything you can buy at the store.
For the whitest smile, call us at Karen E. Williamson DDS PA in Rockwall, and ask about teeth whitening. It's just one of the cosmetic dentistry procedures we make available. Schedule an appointment today!
Contact Karen E Williamson D.D.S., P.A:
Location (Tap to open in Google Maps):
ArticleID 3448