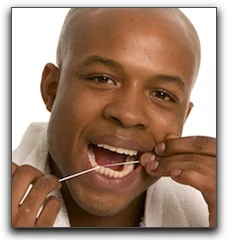 Little things you can do every day can raise your Dental IQ and benefit your smile. One simple lesson from Karen E. Williamson DDS PA in Rockwall involves bacteria, and everyone's mouth has a lot of it.
But don't worry, bacteria per se isn't the problem. The critical thing is the balance of bacteria. This is where brushing and flossing come into play. Brush and floss properly each day and you will have a better chance of keeping the appropriate balance.
Other precautions you can take:
Make sure to wash your hands before you brush and floss. No exceptions!
Keep your toothbrush as far away from the toilet as possible. (Also, close the lid of the toilet before you flush!)
Replace that toothbrush. When it comes to your toothbrush, don't get sentimental. Get a new one every three to four months.
If you can avoid the unhealthy balance of bacteria in your mouth, you can avoid gum disease, tooth decay, as well as bad breath.
At Karen E. Williamson DDS PA in Rockwall we want the best possible dental health for all our patients. We offer complete general dentistry, and patients from Rockwall, Royse City, Backland, Heath, and Fate improve their smiles with out cosmetic dentistry and much more. Schedule an appointment with us today!
Contact Karen E Williamson D.D.S., P.A:
Location (Tap to open in Google Maps):
ArticleID 4529