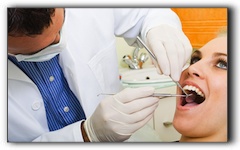 Looking for a new dentist? It's easy to find one. A quick Google search, a Yelp review or two, and you'll have a short list of possibilities. The trick, of course, is finding the right dentist –one you're happy with, and will stick with for years to come. At Karen E. Williamson DDS PA in Rockwall we're proud to have lots of happy patients and positive online reviews.
Are there certain qualities you should you look for? Many factors come into play. Do you choose the dentist nearest your home? By experience and education? Or maybe because a friend recommended the practice?
What To Look For
It may not be an exact science. But here are some of the things we think you should look for when trying to find a dentist:
A Good Listener. Whether it's a general dentist, a pediatric dentist, or some other specialty, a good dentist will listen to your concerns and address any issues you might raise.
Sharing Information. A good dentist is always ready to explain what's going on with your dental health. Any issues you might have should be explained in plain English.
Conservative. Not every smile needs to be corrected; not every cavity needs to be filled right away. A good dentist will take a conservative approach to treatment, and always do what is best for you.
Continuing Education. Dentistry is complex, and always changing. A good dentist is committed to staying on top of innovations and developments. A desire and willingness to improve is a trait to look for.
At Karen E. Williamson DDS PA in Rockwall we want all our patients to be happy with our work, and strive for excellence in dentistry every single day. Our patients come from Rockwall, Royse City, Backland, Heath, and Fate  for our family and restorative dentistry. We would love to see you in our office for a cleaning and checkup soon!
Contact Karen E Williamson D.D.S., P.A:
Location (Tap to open in Google Maps):
ArticleID 6625