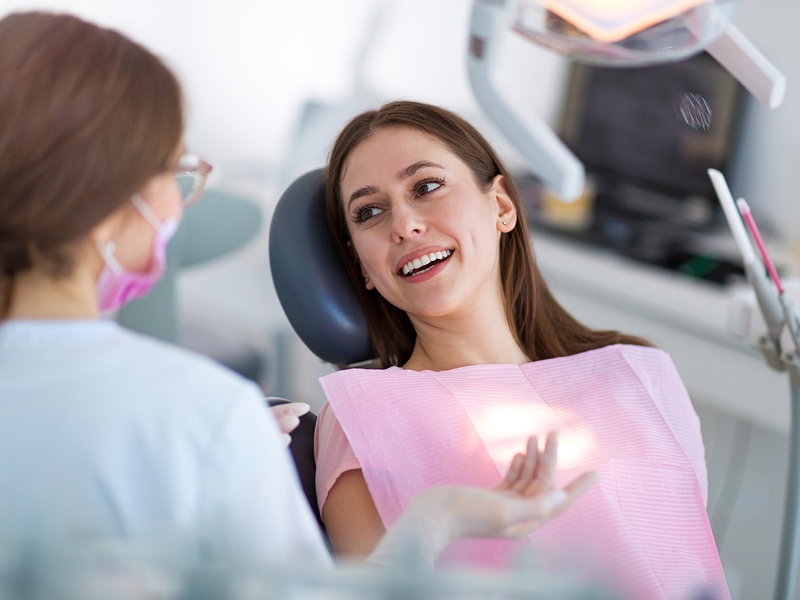 Most people visit the dentist about once each year. As many as forty percent of Americans see their dentist less often; some go as long as five years between visits! At Karen E. Williamson DDS PA in Rockwall, we recommend a checkup every six months.
Here are six great reasons to visit us more frequently.
1. Oral Cancer Detection
That's right: cancer detection. Not many people think about the risk of getting cancer in their mouth or throat. Patients with oral cancer have a far better prognosis when it's detected early. Note that tobacco users have a substantially higher risk of developing oral cancer.
2. Cavity Damage
Unfortunately, almost everyone gets cavities. If cavities are caught when they are small, they aren't difficult (or pricey) to fix.
The problem comes when they aren't discovered early and the damage requires a serious fix. Cavities are one of the reasons many people avoid the dentist. Getting a tooth filled used to be painful. Not anymore.
3. Gum Disease
Gum health is a part of an overall dental health. We will check your gums and treat gum disease, if need be.
4. Bad Habits
Bad habits can have a negative influence on your oral health. Smoking, poor diet, biting nails and clenching teeth are among the more common. It helps to have an experienced professional to help you deal with habits so they don't become destructive.
5. Deeper Problems
X-ray technology allows us to detect potential problems before they become visible. Many issues can be fixed before damage occurs.
6. More Than Just Teeth
We are concerned about more than your teeth. We care about your overall physical health, and are trained in the anatomy around your mouth, including your neck, throat, lymph nodes and head. We always check for signs of trouble.
But we never lose sight of your dental health; at Karen E. Williamson DDS PA in Rockwall, that's what it's all about. We offer complete family dentistry. People from Rockwall, Royse City, Backland, Heath, and Fate also come to us for sleep apnea treatment, and much more. Schedule your next checkup with us today!
Contact Karen E Williamson D.D.S., P.A:
Location (Tap to open in Google Maps):
ArticleID 7785