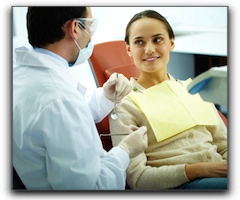 Once one of our patients at Karen E. Williamson DDS PA in Rockwall decides to go ahead with a dental implant, one of the first things they want to know is: how long is the recovery time?
Our answer? It's difficult to predict, because every case is different. There are various factors that go into the process, but not all of them apply to each case.
Some of the issues include:
Any failing teeth? In addition to the lost tooth the dental implant replaces, patients sometimes have unhealthy teeth that need to be removed before the implant goes ahead. That extends the entire process.
Bone grafting? If there has been significant bone recession, we'll need to boost the patient's bone mass. This is usually done with a graft, which promotes new bone growth.
Osseointegration. This is a big word that means, quite simply, the process of the implant post fusing with the bone. We usually allow for about two months, but sometimes it's faster and sometimes slower. Once the post has fused, it is strong enough to support a replacement tooth.
These are the main variables. It may sound like a lot, and sometimes it is. But it's worth it! A new dental implant looks and functions like a natural tooth, restoring not only your smile, but your ability to bite and chew.
At Karen E. Williamson DDS PA in Rockwall dental implants can replace a single tooth, or support a full dental arch. People from Royse City, Backland, Heath, and Fate also come to our office for family dentistry. Call us to schedule an appointment today!
Contact Karen E Williamson D.D.S., P.A:
Location (Tap to open in Google Maps):
ArticleID 8243