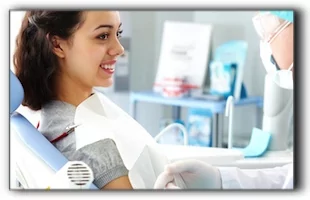 At Karen E. Williamson DDS PA in Rockwall, we remind our patients that good dental health is the result of two main components: what we can do in our office and what you can do at home.
We recommend regular cleanings and checkups here at the office: on average, every six months. Your teeth get a thorough cleaning, and we examine you for any signs of gum disease. Every checkup includes a screening for oral cancer. The American Cancer Society projects that about 53,000 people will get a form of oral cancer this year. Of those, nearly eleven thousand cases will be terminal.
At home, it's essential that you brush your teeth every day; twice a day is better. That regimen should include flossing, too. We recommend using a soft-bristled toothbrush. Should you floss before or after you brush? The jury is out on that one. The most important thing is that you do it.
Use a pea-sized blob of fluoridated toothpaste. There are lots of different types of toothpastes out there, and the brand you choose doesn't matter all that much. Just be sure it contains fluoride, and that the box carries the American Dental Association sea.
And that is what good dental health boils down to: brushing and flossing every day, and regular checkups here at Karen E. Williamson DDS PA in Rockwall. Our patients come to our office from Royse City, Backland, Heath, and Fate for family and restorative dentistry, and many other services. Call for an appointment today!
Contact Karen E Williamson D.D.S., P.A:
Location (Tap to open in Google Maps):
ArticleID 6856