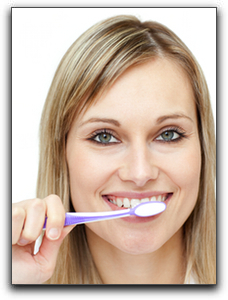 Many of our patients at Karen E Williamson DDS PA in Rockwall wonder why, with all the improvements in dentistry, we still send you home with a complimentary toothbrush and roll of floss.
It's true, they do seem a little old-fashioned in our high-tech world, but don't let their simple design fool you. These tools are your best bet to prevent decay, plaque build-up, and gum disease for dental patients!
When done properly and consistently, brushing and flossing are a critical part of everyday oral hygiene.
Brushing, which should be done at least twice a day, can be done effectively with any type of toothbrush. There is no need to pay a bundle for a fancy electric toothbrush. Just brush your teeth in small, circular motions for 2-3 minutes making sure to reach the surfaces of every tooth.
Flossing should be done once a day and is vital for reaching the areas where a toothbrush cannot.
At Karen E. Williamson DDS PA in Rockwall, our services include family and restorative dentistry. Call us to schedule an appointment today!
Contact Karen E Williamson D.D.S., P.A:
Location (Tap to open in Google Maps):
ArticleID 3804